So, I got 'the call' this morning and had to drive over 2 hours into work (I'm supposed to be on holiday) because of an Exchange server that went offline last night.
HP ProLiant, 32 GB RAM, 4 x 600 GB fast disks, in 2 RAID logical drives:
Logical 1:
144 GB partition for Windows Server 2008 and Exchange 2007 (sorry - I don't control the IT budget)
2nd partition is for Exchange logs.
Logical 2 on RAID 2:
Mailstores
In plain English, C: is stuffed, going in an endless boot loop.
I've tried the semi-automated repair options, I've done the manual:
bootrec.exe /fixmbr
bootrec.exe /fixboot
bootrec.exe /RebuildBcd
Then ran the 'Startup Repair' option three times.
No joy.
Bought and ran third party "Easy recovery essentials" for Server 2008, ran it, found problems, alleged to fix them.
No joy.
After much fiddling and getting nowhere fast I finally decided on a bare metal restore of last night's C: partition using BackupAssist's bootable disk which, magnificently, took several minutes to fail to load and gave me this error: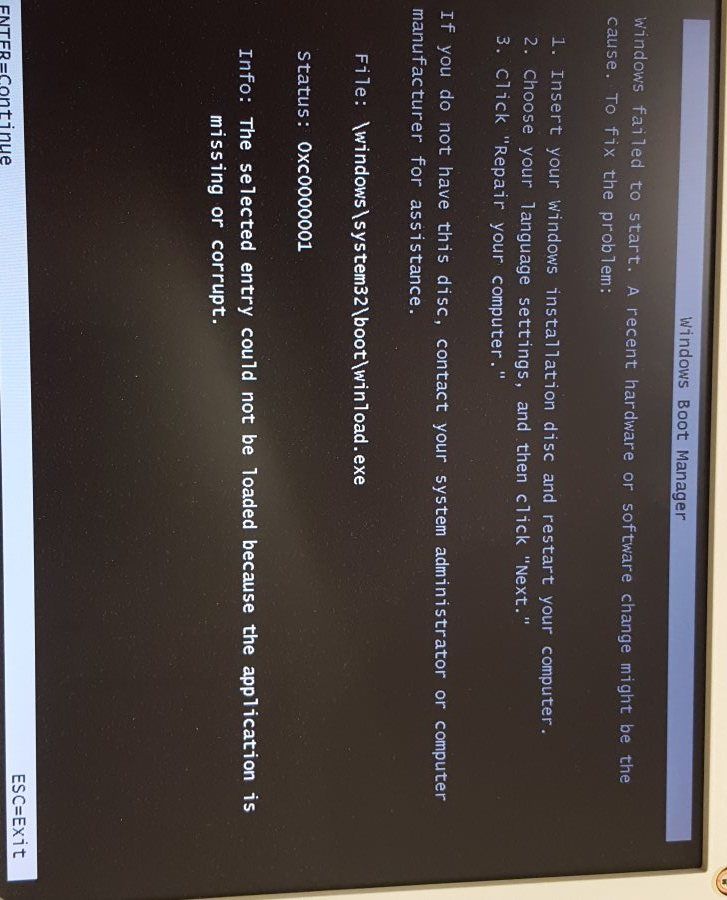 Assuming I'd missed something blindingly obvious here, I quickly registered for a 30 day trial of the latest version, downloaded and installed it on a similar Windows 2008 server, created a bootable recovery disk, booted from it, and it too took some time before ending up at exactly the same screen as above.
Meh.
Documentation suggests I should be able to boot from the bootable disk and use the options therein to perform recovery.
So I'm still sitting here in front of an uncooperative Exchange server that's caught in a reboot/fail to start loop, only now I am unable to use the BackupAssist backups I thought I could use.
So, in summary, Server 2008/Exchange 2007, OS and apps on 144 GB partition, Exchange logs on second partition, Exchange mail stores on separate pair of Raided drives, Backupassist bootable media from version 7.4.7 or from the latest version 9 are both unable to, well, boot.
What next ?